A New Name for
Living Hope Christian Fellowship!
In biblical times, names were intented to communicate the inner character and purpose of the one who bore the name. It wasn't a matter of aesthetics or trend.
It's also true that in biblical times, the changing of a name was also a significant event. Abram became Abraham, because of the promise that God had made him. His wife Sarai became Sarah. In Acts, Saul, a persecutor of the church, was renamed "Paul" by God on his life-changing journey to Damascus. ("Paul" by the way, means "little"...God's way of bringing the arrogant Saul into a right understanding of who he was before the Almighty God.)
Perhaps the most famous change is Jesus renaming Simon and calling him "Peter" (which means 'rock'). This was significant because it was Peter's "bedrock" confession of Jesus' identity upon which Jesus said he would build His church.
Jesus continues to build His Church--capital "C"--around the world. And we take great joy in being one of the many "rocks" he has set in place to serve His purposes, as we build upon the foundation of the Rock--Jesus.
So it is not lightly that we have set about to prayerfully ask God what the "real" name--the essence, the character--of our church is, and what it should reflect to those around us.
Why even change the name in the first place?
Why indeed? The name "Living Hope" had served us well for years, and it certainly conveys a powerful, biblical truth. And it's a truth we continue to proclaim. It's not a name or an idea that we are running away from. Far from it!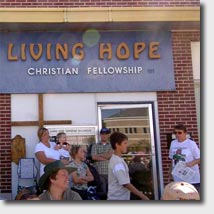 Nevertheless, in recent years, Jesus began to "re-make" our church in some deep ways. In fact, the first step began years ago, when Living Hope Church relocated from a residential area to a humble old storefront property on Main Street. The building was originally intended to be a temporary home on our way to a bigger, better facility on a "nicer" piece of real estate. So we gave little thought to improving the premises. Why bother, if we were only there for a little while?
But that thinking began to change. We began to see our storefront building not as a way-station, but rather as a long-term home for our congregation, a center for outreach, and the place God had wanted us all along. With that understanding, we recognized the need to become better stewards of the facilities that God had already given us.
In the summer of 2007, we invested some of our savings, as well as a lot of volunteer man-hours, into turning our drab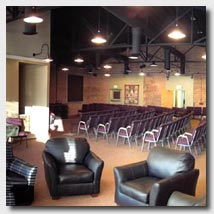 interior space into a warm, inviting sanctuary. Before the renovation, our sanctuary served our own congregation's purposes adequately enough, but it wasn't a particularly inviting setup. Now, it's a place we are excited to share with anyone who wants to visit! (If you want to see our before-and-after pictures, click here!)
But it didn't stop there. Even as we were enjoying that "new-sanctuary smell," it began to dawn on us that it was no mistake that God had placed us on downtown Main Street, in an area of town with a lot of traffic. We had already begun opening our building during "Peach Days" (Brigham City's annual end-of-summer festival) offering our facilities' restrooms and providing water and popcorn and a place to get out of the heat. In doing so, we interacted with thousands of visitors in just a couple of days. What else could we do, on a year-round basis, to be (as we were already being called) "That Church on Main Street"?
It was clear that we needed to expand our vision to be a presence in our community, and our physical location was a big part of that. There was hardly a better location for being an expression of God's love for our predominantly Latter-day Saint (Mormon) community. Exciting ideas began to emerge.
In the midst of this, in the fall of 2008, Living Hope Video Ministries, which had produced a number of documentaries that have helped Christians reach Latter-day Saints with biblical truth, separated organizationally from the church, from which it had grown. It had been the most visible component of our church to the outside world. But with the departure of the video ministry, it caused us to re-evaluate what we, as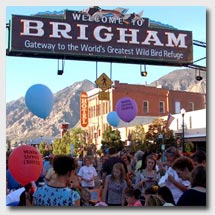 church body, were now being called to do for God's Kingdom. What did this mean for us?
We had not lost our commitment to proclaim the good news to our Latter-day Saint neighbors, both near and far. Nor had we turned our back on involvement in multimedia production for that purpose. Our desire to be both a loving and truth-bearing presence in both in our town and beyond, had not waned; if anything, it had gained momentum. (This commitment to outreach has since grown into the Sacred Groves ministry, the active filmmaking & multimedia outreach of the church.)
The idea of changing the name of the church was not a new concept; it was a question that had popped up now and again over the past several years. But it wasn't until the spring of 2009 that the idea really gained some traction, and we began to pray more seriously about it.
As we considered possibilities, the simple name of "Main Street Church" resonated strongly, because it communicated what we believe God wants us to be--His hands and feet, right in the heart of our community. The name is uncomplicated, unpretentious, and un-"religious", and that is deliberate. We seek to communicate accessibility, openness, and an engagement with Brigham City and beyond. And most importantly, we want to share the good news of eternal life through the biblical Jesus Christ, with anyone who will hear us.
In the New Testament times, individual congregations were known by their location--The church at Ephesus, the church in Corinth, the church that meets at so-and-so's home, etc. So we realized that there was no need to come up with some clever or sanctimonious name, when we could simply follow the example of the early churches. "Main Street Church" said it just fine.
God's process of "remaking" us is hardly complete--and of course, we know that it will be an ongoing process, just as it is in each of our individual lives. But we are confident that He who began a good work in us will perfect it until the day of Christ Jesus (Philippians 1:6).
And we would love for you to join us as together we offer up our quirky, imperfect vessels to be filled with His Holy Spirit, to be poured out for our community and the world beyond.